›› First Choice Of Surgeons
.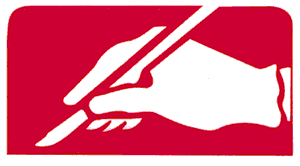 ›› Surgical Gloves
LOWEST PER OPERATION COST

About 8 sterilizations. This makes them cheaper compared to others in actual use.

Scientifically designed to give maximum comfort and good sense of feeling.
Finely textured surfaces gives sensitive touch with perfect grip even in wet conditions.
Each gloves is individually tested for irregularities and pin holes before it is packed.
Considerably higher tensile strength and tear resistance-no weak points between the fingers.
In house facility to check for sterility of sterilized gloves.
Roughness is uniform and permanent. It is avoided at unwanted places.
Glove powder evenly applied ti inner glove surface for easier donning.
Reinforced tapered cuff maximized tear resistance and prevents roll-down.
| | |
| --- | --- |
| Roughness provided at proper places for better grip. Roughness specially provided on the inner side of the thumb and on the index finger on front as well as on the side for better grip while taking stitches and making an incision. | |
| | Gloves are tested in our laboratory as per I.S.I specification and strict quality control is maintained. |
| Thinner, Lighter, softer, Curved fingers which are designed ergonomically to reduce hand fatigue to minimum. | |
| | Sixe stamp and "RUFEX" embossed on the gloves to identify genuine DIALOMATIC gloves. |
610, Rajhans Complex, Next to Center Point, Opp. Subjail, Ring Road, Surat. | Ph : +91-261-2351230 | Fax : +91-261 -3251231| Cell Phone : +91-98252 81111 | Email : dialgroup@gmail.com